Tagged with " campfires"
We're very excited to give you a 1-week early bird preview of Campfires' debut full-length, Tomorrow, Tomorrow. Stream the wholesome and sometimes twangy 13-track release, and read what Campfires' Jeff Walls had to say about the album below.
From Jeff Walls of Campfires:
'Tomorrow, Tomorrow' is the first really proper record I've ever set out to do, so I think it's got some pacing and cohesion that is new for Campfires stuff. There's a story and recurring characters and everything, all sort of loosely based on friends or people I knew in Chicago. As it goes through it tells the story of this sort of fictionalized version of these people going through their lives in the city. The themes are death, drugs, love, and uncertainty. I recorded it all in Portland in my practice space except for a sample or two that I've been kicking around for awhile. While I was recording it I was listening to a lot of Kinks, Velvets, Television Personalities, and some old garage comps so I think you can hear that stuff rattling around on there.
Pre-order Tomorrow, Tomorrow on limited-edition 12″ wax (including hand screen printed jackets) via Fire Talk Recs.
Jeff Walls of Portland's Campfires opens up about the fragmented recording process behind his (forthcoming) debut LP Tomorrow, Tomorrow and shares "Gone Country Dream (For Bill Doss)", a brand new track from the release.
---
Recording alone is simultaneously a great and terrible method of making music. There are no outside hassles or distractions but it can get tedious setting things up and re-taking tracks over and over to get the instruments to sync just right. I still love it though, even if it takes a long time. The goal is to make the song pass through as few of filters as possible between what I hear in my head and what someone else will hear. So no verbalizing the "feel" of it or explaining the chord progression, no one improving it or changing it (for better or worse). Sometimes when things work out right the song just takes its own direction, and my job is just to follow it. I still use pretty much the same method I did when I started recording when I was in high school– Get an idea, strum it out, record a drum loop, layer all the guitars and vocals, and then re-record drums at the end so that it has more dynamics. Sometimes it can take an hour or more to make a minute of music, but sometimes it just tumbles out and I can't get it down fast enough. My favorite part of recording is that its really just dozens of little moments all melted together to form something that becomes completely different from each of them on their own. It almost feels like it comes alive by the end.
The image I made (below) to help illuminate my process is based on that idea: that the moments all get pieced together to form something bigger.
"Gone Country Dream (For Bill Doss)" is one of the many aural creations on Tomorrow, Tomorrow that further represents the image and thoughts detailed above.
Curated by Speaker Snacks.
Fire Talk Records are back again, this time with the release of Tomorrow, Tomorrow, the ambitious debut full-length from Portland via Chicago's Jeff Walls aka Campfires. The hefty 13-track vinyl, which is limited to only 150 copies, can currently be pre-ordered here and comes equipped with a personalized, hand-screen-printed jacket — courtesy of Jeff and the rest of the Campfires crew. Stream the lead-off single "Fortune Teller" below — the album officially drops digitally/physically on February 19th, 2013.
Tomorrow, Tomorrow track-list:
01. If The Darkness Were to Bend
02. Fortune Teller (preview below)
03. Simple Things
04. Acre Looks
05. Time for a Ride
06. Rye Lovers Sword
07. Jeux et Jouet
08. The Lighted Avenues
09. Glass Arrows
10. Lamplighter
11. Bayonet
12. Tomorrow, Tomorrow
13. Gone Country Dream (for Bill Doss)
Read a previously released visual interview we did with Jeff here.
For this visual interview, I asked Jeff Walls of Campfires to create an image that acts as the visual representation of his music – his aesthetic perception of his sounds. As listeners, we compose cerebral  images of the sounds we hear. As I've listened to Campfires, I've time and time again lingered upon a sole character, a peak climber who explores only forests struck by forest fires. In asking Jeff to translate his perception into image, I was curious if the character that's been persistent in my mind was present in his.
This was his creation: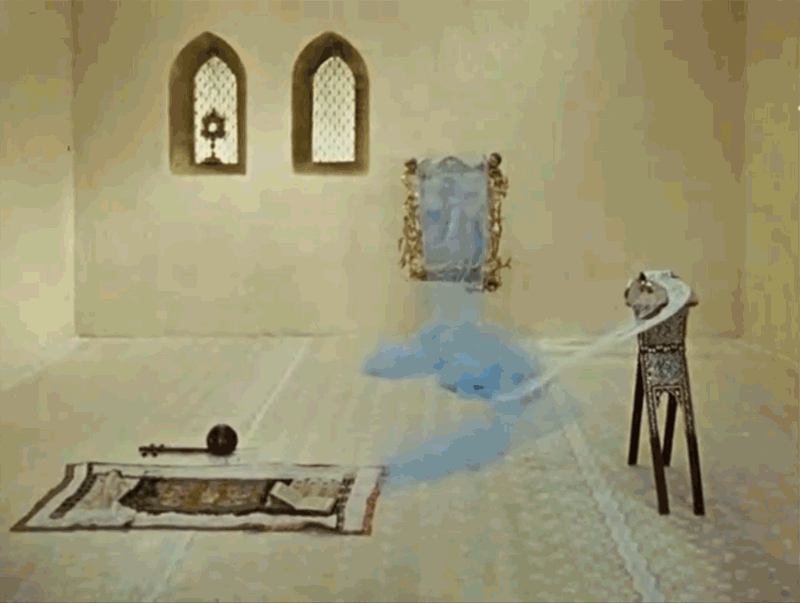 I asked Jeff to explain his visual:
I took the imagery for this GIF from the movie "The Color of Pomegranates" which is a beautiful and very weird movie directed by an Armenian named Sergei Parajanov in 1968. It tells the story of this "ashough" or sort of traveling troubadour type guy named Sayat-Nova. I love the imagery in the film, and the imagery in the scene from which the GIF is taken in particular, but I also love the approach to telling a story or communicating something and the more I learned about it the more I felt like it was connected to how I have always approached making music. Basically the idea is to tell a story with something other than words, or to use some words but sparingly and have them just be part of a much bigger thing, and in that way to communicate on a different, more subconscious level than words work on. 
Campfires —"By and By and Bye"
"By and By and Bye" is a song I wrote when I was moving out of Chicago, where I had just spent about 4 years. The feeling I had when I was making it was to try to express all these feelings of how much I loved it there and how much I loved all these things that happened to me and all the people I was with, but also how everything passes and that it was a moment of diving into new things and all sorts of changes. So I did this semi-improvised guitar thing some night this summer and thought about adding words but I felt like it was already saying what I wanted in a way that was better than I could've put it in words if I tried. All my favorite art, be it music or film or visual art or even writing, is stuff that says a lot more than it seems as long as you zone in and pay attention. "The Color of Pomegranates" makes me feel that in a big way, so I thought it'd be a good match.
Later this month, Campfires' whiskey and ember sunken album Mystery Scapes will be released via Terroir Editions. Be ware, it's one of the most intoxicating records I've heard.
Here's one of the many splinters of magic on the album: